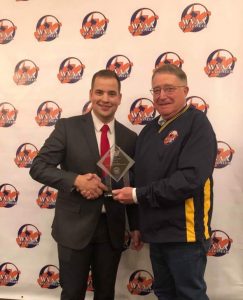 James Yoder, an auctioneer from Bridgeport, WV recently won the prestigious West Virginia Auctioneer Championship at the 2020 West Virginia Auctioneer Convention. James was also the first auctioneer in West Virginia history to win the Rookie, Senior and People's Choice awards in the same competition. The contestants are judged on poise, clarity, rhythm, voice control, speed and whether the auctioneer would be a good ambassador for the West Virginia Auctioneers Association. The top 5 are also judged on an interview portion. Yoder along with his wife Sharon and 2-year-old daughter Eliyanah made the move to Bridgeport, WV from Holmes County, Ohio to join Kaufman Realty and Auctions in May 2019. James' primary focus is selling real estate, private collections and estates, while he also enjoys doing charity and horse auctions. When asked how it feels to win the awards, James says the awards are a dream come true, but the friendships made through the competition are worth more than any award could ever be.
The WVAA congratulates James and looks forward to seeing him next year at the WVAA convention as our Master of Ceremonies and contest committee chairman.
The WVAA strives to provide quality education and support to its members throughout the state of West Virginia and beyond.