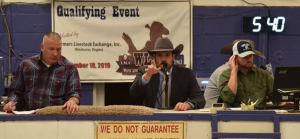 The LMA on Monday Nov. 18th held their eastern qualifier event Winchester, VA. The best of the best in cattle auctioneering industry entered to earn their spot in the World Livestock Auctioneer Championship (WLAC).
West Virginia's very own Ben Morgan, a 3rd generation champion auctioneer from Greenbrier County has found his way to the top in the eastern qualifier event and will compete in the 2020 WLAC in Nashville Tennessee.
The world championship will be held in 2020 at the LMA Annual Convention in Nashville, Tennessee.
Dickson Regional Livestock Center, LLC in Dickson, Tennessee
June 3-6, 2020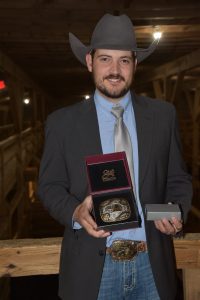 The response from your 2019 LMA Eastern Qualifier Reserve Champion: Ben we all want to know how you felt up there. When you were  named Reserve Champion among top auctioneers in the country, what was going through your mind and what made the difference for you in Winchester?
"For some odd reason I never felt nervous the entire time I was in Winchester. I had mixed emotions about that. I thought " I'm not so sure if this is a good thing or a bad thing!" There were 30 contestants from all over the United States who attended and I drew to sell 25th. I knew that was a good number to draw. I sat patiently and waited my turn and when my time came to take over the block, I sat down took a deep breath and began my opening remarks. I felt I had did well with that, now it was time to do my job. Sell cattle! We each sold 5 cuts of feeder cattle and finished by selling 3 pound cows. So we sold a total of 8 drafts. The bidders were a little hard to find the first cut being that I had never been in that stockyard nor did I know who any of the buyers were. But after getting them all figure out I rolled to them and did what I was there to do. After my run I sat and thought of how I had done and felt good about it. Which is out of the ordinary for me because I tend to be too hard on myself! Now it's time for the awards, I'm setting there thinking I should have done a good enough Job to make the top 10 and move one. My name was the second name announced to make the top 10 and I was so excited I didn't know what to do! After all the top 10 were called down it was then time to pick the Champion, Reserve Champion, and Runner-up Champion. First off, the gentleman that was named Runner-up is a friend of mine from South Carolina (Philip Gilstrap) who is a great auctioneer. Right there I thought well I definitely didn't make the top 3, but hey I made the top 10 so I'm happy! Then it was time to pick the Reserve Champion and I thought shoot there is no way I'm placing any higher, there are still some of the best in the country standing beside me. Then they called my name as the Reserve and I almost went numb. I was speechless, all I could do was smile! So it was an unbelievable feeling to be able to place that high against auctioneers of that caliber. I plan to just continue selling like always and try to stay humble until the World championship in June. I just plan to show up and be myself. I'll just have to keep in mind that when I show up, I'm not at a county fair contest I'm rolling with the big dogs! And as my dad would say "get up there and put some fire in it" and do the neat job I can do.
Ben, on behalf of the President, Board of the WVAA and its members, we are all pulling for you in West Virginia. Good luck in all your future events!
Submitted by Alden Butcher, WVAA Director.